Lille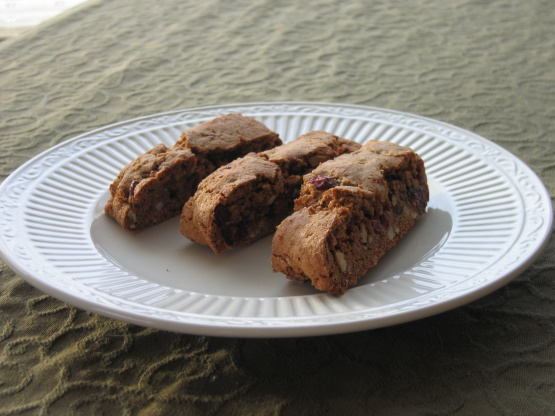 Another great recipe from Fine Cooking magazine, by Abigail Johnson Dodge.

I'm not a coffee or tea drinker so have never had biscotti much (or ever made it before, for that matter) but wanted to try it for co-workers who *are* coffee/tea drinkers. Since one of them *loves* gingerbread (as do I), I thought this was the perfect recipe for my first try. They both said it was great! I tried a piece after the first baking (without dunking in anything) and thought it was tasty. I was short on pecans so used what I had (about 1/2 cup) and used a *heaping* 1/2 cup of apricots. The logs really spread A LOT and got very flat, as mentioned by another reviewer, so I would probably add more than 10 oz of flour next time. I baked for 20 minutes and they got very crunchy (which was what I was after, so that worked!) I will be trying this again with more flour to see if I can get a better shape out of them. Thanks for sharing!
Preheat oven to 350°F; line sheet pan with parchment (don't use a silpat).
Combine ingredients through soda in a stand mixer and mix thoroughly on medium-low speed.
Mix in briefly nuts and fruit.
Mix molasses eggs and zest in a measuring cup. With mixer on low slowly add egg mixture. Mix for a minute or two, till the dough starts to come together in clumps.
Divide dough in two,about 1 lb each. Form logs about 10 inches by 1 1/2 inch each.
Bake on pan about 30 to 35 minutes. Tops will be cracked and will spring back when lightly pressed.
Let cool on a rack about 10 minutes.
Peel the logs from parchment and move to a cutting board. Slice diagonally into pieces about 3/4 inch wide.
Place biscotti back on pan, cut sides down, (ok to reuse parchment) and bake for 10 to 20 minutes, depending on if you want chewy or crunchy.
Let cool completely, store in airtight container.