Syrinx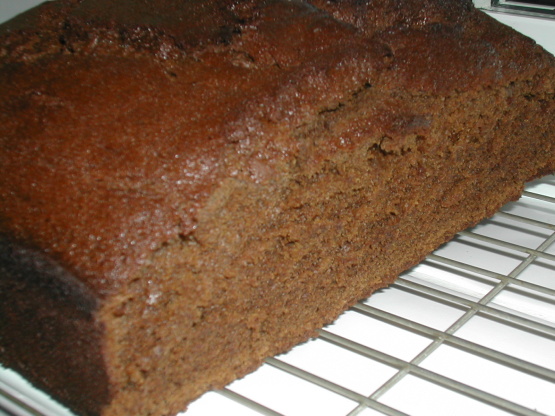 From Gourmet magazine, with a few added spices of my own. It is very moist and crispy on top! Hopefully someone can enjoy this!

Wonderful! i made this as a cake with cream cheese icing for my mom's birthday- and we all loved it!! For nutrition reasons- i subed the butter with fat free sour cream- and the result was terrific. I agree with Syrinx, the directions don't mention what to do with the eggs- so i also added them to the liquid ingredients. I also reccomend adding the wet ingredients to the dry- makes mixing easier and less messy This one is a definate keeper!!!!
Put oven rack in middle position and preheat oven to 350°F Butter a nine inch square baking pan (I just used a loaf pan).
Whisk together the first seven ingredients (if using ground ready to use ginger) in a large bowl.
With an electric mixer at medium speed, beat together butter, molasses, brown sugar, honey, and ginger (if using fresh) until combined.
Reduce speed to low and mix in flour mixture until smooth.
Add hot water and mix until combined (batter may appear curdled).
Pour better into pan and bake until a wooden pick or skewer inserted in center comes out clean. usually 35-45 minutes.