Derf2440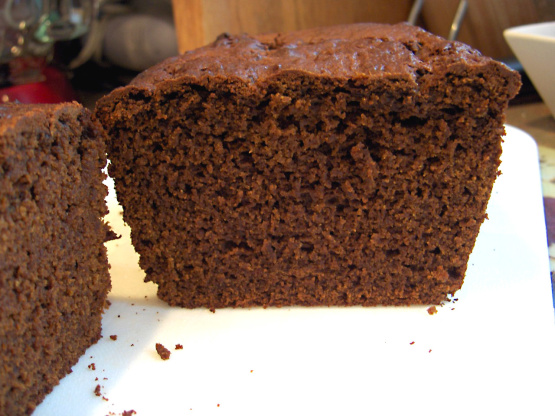 This was great!! My grandmother used to make gingerbread and this was exactly the same. I did make two small loaves and shared with my neighbor. The smell was fantastic. My oven cooked much faster than the recipe. I cooked the loaves seperately and baked the first for about 40 minutes and when I checked the tester came out clean. I baked the second loaf for 35 minutes and the tester came out clean as well. I would definitely moniter the cooking time for your oven. Otherwise, this was perfect and exactly the gingerbread taste and texture I was looking for.
Preheat oven to 350°F.
Grease and flour a 9 x 5" loaf pan.
In a bowl, measure the flour, baking powder, baking soda, salt, ginger and cinnamon; set aside.
In a mixing bowl, beat the butter and sugars until light and fluffy on medium speed. Beat in the egg and continue beating until combined.
Combine the molasses and milk in a small bowl. Remove the butter mixture from the mixer. Alternate adding the flour and milk mixtures to the butter mixture. Fold the batter together with a rubber spatula.
Pour the batter into your prepared loaf pan. Bake for approximately 50 minutes or until done. Let cool in pan.