alligirl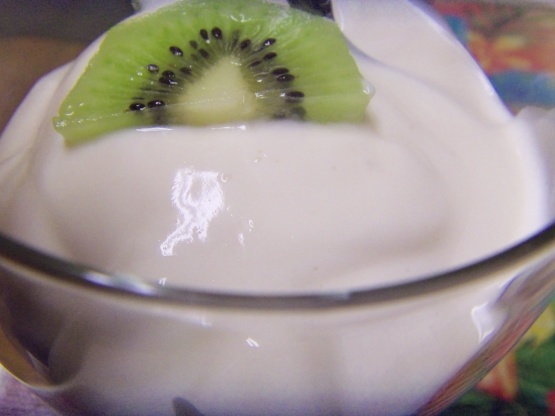 Posted for the Zaar World Tour 2006-India. From the "International Vegetarian" cookbook. This yogurt is barely sweetened and ginger tangy. This is especially delicious after the traditional curry meal. Serve it on its own or as a sauce over papaya, strawberries, seedless grapes, or kiwi fruit. Note: prep time includes refrigeration time.

Just loved this simple take on yogurt. I used a vanilla, as it was on hand. I refrigerated it overnight, topping sliced kiwi for breakfast. The creamy, tangy greek yogurt was nicely enhanced with the 'spice' of the crystalized ginger. So glad I chose this recipe; thanks for sharing, Bayhill!
In a bowl, combine yogurt, marmalade, brown sugar, and lemon juice; mix thoroughly. Cover and refrigerate for several hours to blend flavors. To serve, spoon into 4 dessert dishes.