3 Reviews
This was a wonderful, refreshing change of pace with lots of great flavors. I love ginger and lemon, which complement each other perfectly. Adding them to iced tea seems pure genius! Thanks for sharing.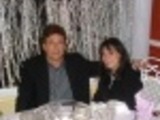 this is refreshing and is going to be in my drink rotation. i cant drink soda so much any more and this gives me that soday feel in the mouth with alot of the caloies since i can put in the amount of syrup i wish

Lots of good flavors here! Ginger and lemon are so good together and the tea is a bonus. Very refreshing!

Ginger-Tea Lemonade