Ginger Stir Fried Scallops
Maito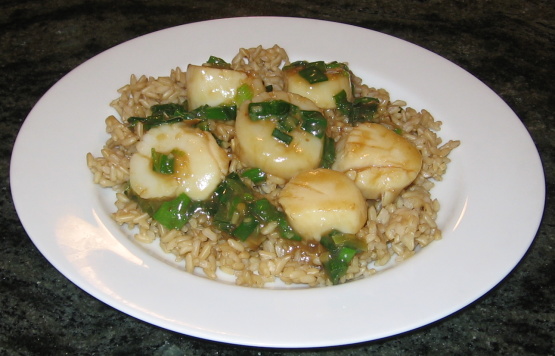 from Williams Sonoma's Cooking Basics. Serve with steamed white rice.

Top Review by Maito
These scallops are quite good! I halved the oil and ginger, and tripled the garlic. I had to substitute broth for the clam juice (it didn't look quite right, so I tossed it). It only took the sauce a couple of seconds to thicken. This was an enjoyable entree for 2 with brown rice and a veggie. Thanks!
In a bowl, combine the marinade ingredients with the scallops and let marinate for 15 minutes.
Meanwhile combine the sauce ingredients and set aside.
Heat a wok or heavy skillet over high heat and add 1 tablespoon of the oil.
Add the green onion and stir fry for about 30 seconds. Season lightly with salt.
Add the remaining oil to pan, then add the scallops with their marinade and stir fry 1-2 minutes.
Stir in the sauce that was set aside. Stir fry until the sauce thickens, about 1-2 minutes.
Season with pepper and serve.