Ginger & Spice Lamb Burger for One
Bergy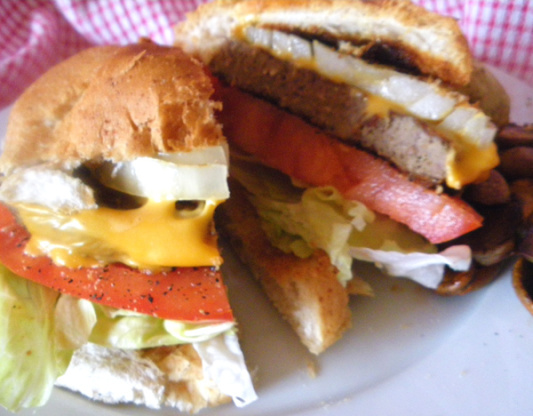 I threw this together one Saturday evening and I thought it came out a winner. It has a lovely tang from the hot sauce and ginger/soy. I used a prepared Ginger sauce(1 tbsp) however in the recipe I changed it to 1 Tbsp Teriaki sauce and 1/2 tsp grated ginger because it may not be available everywhere..Just repeat as many times as you wish. Make it as hot as you want or tame it a bit. Great served with oven Fries

Lamb is more usually associated with Mediterranean seasonings than with Asian tastes like teriyaki, which lends this a nice novel flavor that really works. After trying it one time with the cheese filling, I omitted the cheese and just mixed the other seasonings with the ground lamb; it was still great! Bergy, you are truly the queen of burgers.
Place the teriaki sauce, ginger, worcestershire sauce,hotsauce cheese, salt& pepper on one of the patties, cover with the other pattie and seal carefully.
Slide the sealed pattie into a heated pan (hot temp).
Brown for 3 minutes, flip the burger, turn heat down to low medium, cover pan and cook 3 minutes,flip again, add Mushrooms, return cover and continue cooking until done over low heat.
(apprx 12 minutes total).
Meanwhile toast your bun, butter it if you wish I usually don't.
When your pattie is cooked and the bun toasted place pattie on the bun along with all the condiments.
Enjoy.