Ginger Spice Crunchy Granola
CoffeeB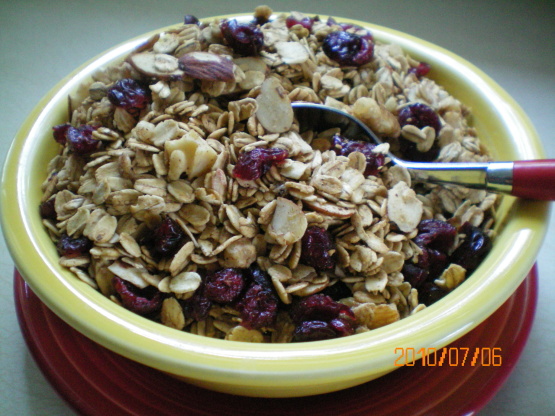 Deliciously seasonally spiced crunchy granola, excellent served with vanilla yogurt, perfect for autumn and winter potluck brunches; your whole house will smell yummy! Inspired by "Crunchy Granola" (Crunchy Granola).

This granola is delicious, crunchy and sweet. I was surprised to see there is no oil in it. It has a lot of sugar so over time I may see if I can get by with less and still keep the crunchy consistency. I was also surprised that this recipe doesn't use any crystallized ginger. The first time I made it I added it, but I'm not sure it added noticeable flavor beyond the ground ginger. The second time I skipped the crystallized ginger and I am not noticing its absence at all. I can also say that in my haste, both times I added the dried fruits (cranberries and dates) along with the nuts etc so they cooked along with everything else, and that was fine. I think the granola is still great even though I missed following the recipe to the letter.
Heat oven to 275 degrees F.
Line 2 cookie sheets with parchment paper.
Combine brown sugar, orange juice, and molasses in a large pot; stir frequently until sugar is completely dissolved.
Remove from heat and stir in vanilla and salt.
Add oats, nuts, and spices to brown sugar mixture.
Mix thoroughly until all oats are coated.
Spread onto cookie sheets and bake 40-50 minutes, stirring once, until golden brown.
When granola has cooled completely, add fruits if you wish and store in airtight container.