Ginger Shiitake Basil Turkey Wrap
ChefLee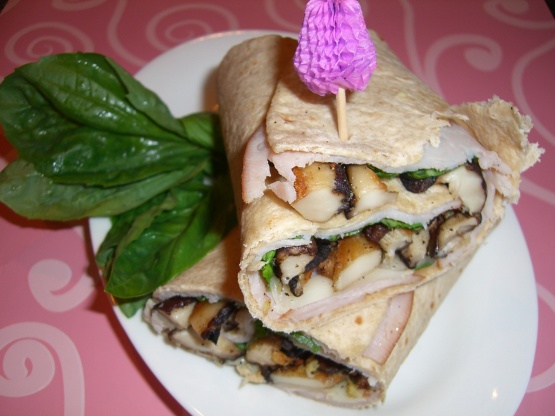 I love roasted veggies, especially mushrooms! I wondered how fresh ginger would taste roasted with mushrooms and it was delicious! I put them all together into a wrap that I hope you enjoy!
Preheat oven to 400°F.
In a mixing bowl; toss around the oil with the mushrooms, ginger, salt, pepper, and garlic powder. Place the mix onto a nonstick baking sheet and roast for 8 minutes.
Meanwhile, get your tortilla out and put the turkey slices on in a circle pattern then the basil leaves.
Take the Swiss cheese and cut it in half and put over the basil leaves.
Place the hot mushrooms out of the oven over the Swiss and that will melt the cheese. Wrap it up and enjoy!