Parsley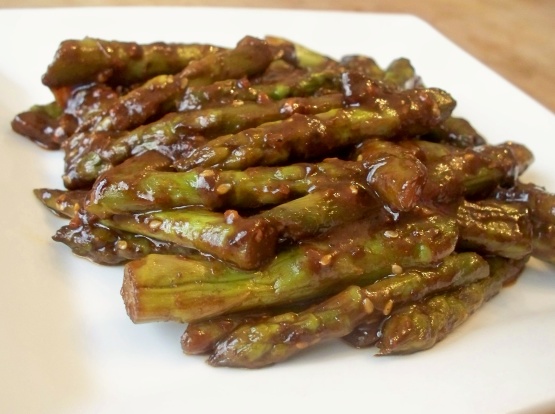 This is a lovely part of any Asian themed meal, from Fine Cooking.

This was wonderful! I am always looking for new ways to prepare asparagus and this was a definite winner. The slight sweetness from the hoisin sauce really brought out the flavour. Served it with Sesame Seared Tuna and Wasabi Mashed Potatoes. Yum!
Bring a pot of water to boil, add salt and asparagus and cook for 1 minute.
Remove and rinse asparagus in cold water, drain well on paper towels.
In a small bowl whisk together hoisin, rice wine and sesame oil.
Heat peanut oil in a large skillet.
Add sesame seeds to center of the pan and cook until the seeds are browned, about 5 minutes.
Add ginger and garlic and cook 1 minute.
Add hoisin mixture, asparagus and salt.
Stir often until asparagus is coated and heated through, 1 minute.