Ginger Sauteed Carrot and Potato Slivers
phopot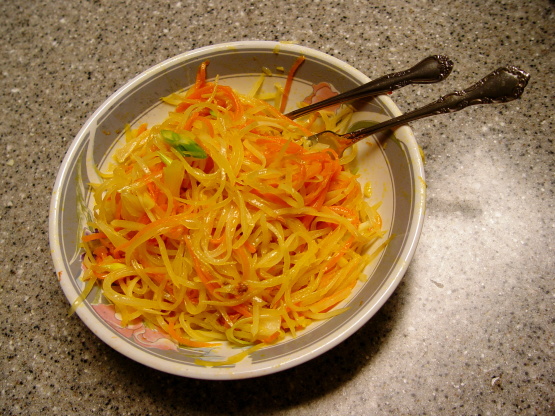 one of my favorite simple chinese dishes is sauteed carrots, which my mom used to make all the time. the natural carmelization makes me so happy and the color is really pretty. this dish came out of my love for my julienne peeler and my need to put ponzu on everything.

I just loved this! The combination of carrots and potatoes was unique and the ponzu sauce really set it apart as far being different from the oridinary. It was very quick and very easy. I did go ahead and use the whole carrot and julienned it with the mandoline. Great creation phopot.
julienne potato and carrots with a julienne peeler, in the lengthwise direction. use only the outer layer of the carrot, the meat of the carrot as the chinese call it, because the inner circulatory portion is useless and fibrous.
heat up enough vegetable oil to cover the bottom of the pan and heat until very hot.
saute carrot and potato slivers with the white part of the green onion. salt to taste, add ginger and cover.
cook on medium, stirring ocasionally until both are soft.
remove from heat and add green onion tops and drizzle with ponzu. mix well and cover until serving.