Ginger Pork With Peanuts Elephant Walk
loof751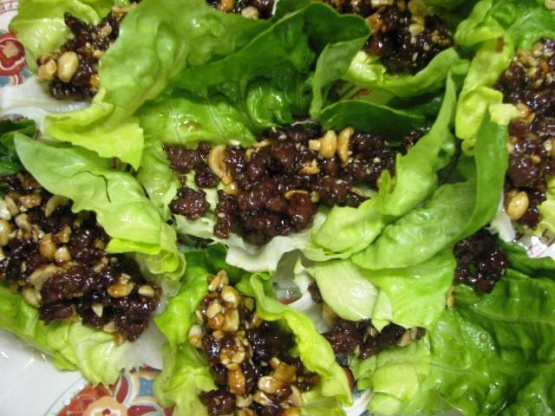 Ground pork, tamarind, peanuts, garlic and ginger combine in this fabulous recipe

That was a surprisingly good way to use up some tamarind! I made it vegetarian by using ground soy beans instead of pork. I also used tamarind concentrate instead of juice (my mistake) but it was not overpowering. I cut the sugar in half and it was just the right sweetness (I don't like my food very sweet though). I served the mixture rolled in turnip greens: not very traditional, but the peppery taste of the greens was a nice contrast to the sweet and sour mix. Overall, very good, and I'll make it again.
Heat the oil in a large skillet over medium-high heat and fry the garlic and shallots until crisp and brown but not burned, about 30 seconds. Remove with a slotted spoon and set aside.
In the same pan, brown the pork, breaking it apart as it cooks, about 3 minutes. Stir in the tamarind juice, sugar and salt. Stir in the fried garlic and shallots and the ginger. Lower the heat to medium and cook for 3 minutes more, or until the liquid has almost evaporated. Stir in the peanuts. Remove from the heat and set aside.
If you want to make little packets, dip the spinach leaves in boiling water to blanch and lay out on a towel to drain. Place a teaspoonful of the pork mixture in the center of each leaf, and fold over both sides of the leaf and then fold the top and bottom over. Arrange seam side down on a platter. If you decide to forgo the packets, put the pork mixture in a serving bowl and garnish with cilantro and red peppers. Serve warm or at room temperature with Crispy Rice.