Ginger Pork Lettuce Wraps
Rita1652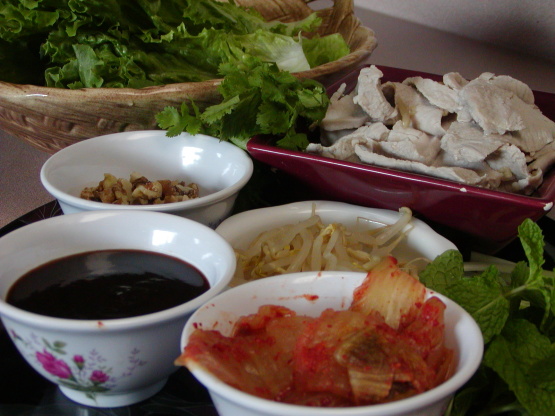 this recipe is adapted from the march 2005 food and wine magazine. easy and tasty, 2 requirements to weeknight dinners. i served this as an appetizer, but i guess it could be a light lunch too. The meat should be sliced very thin before it's boiled; to make slicing easier, freeze the loin for an hour first. The kimchi, a Korean pickled cabbage is sold in supermarkets and Asian groceries.there are also alot of good recipes here, i recommend Korean Kimchee in a Day! kimchee in a day by sharon 123..

I do wish I had one of those Korean grills in my table top. It would have been that more tasty to have been able to grill like in the Korean restaurants. I used walnut in place of the pine nuts That's what I had. Made half the recipe. Added to the fixings cilantro, mint, and scallions.Thanks for a fun and tasty recipe!
in a small dry skillet, toast the pine nuts over low heat, stirring frequently, until fragrant and lightly browned, about 3 minutes.
transfer the pine nuts to a small bowl and let cool.
in a large saucepan, combine the water with the salt and bring to a boil over high heat.
add the pork and cook, stirring, until white, about 1 1/2 minutes.
drain the pork in a colander, then transfer it to a serving bowl and toss with the ginger.
spread the lettuce leaves in a basket and spoon the kimchi into a small bowl.
serve yourselves, filling the lettuce leaves with hoisin sauce,the ginger pork, kimchi and pine nuts.