Ginger Plum Chicken Stir Fry
ImPat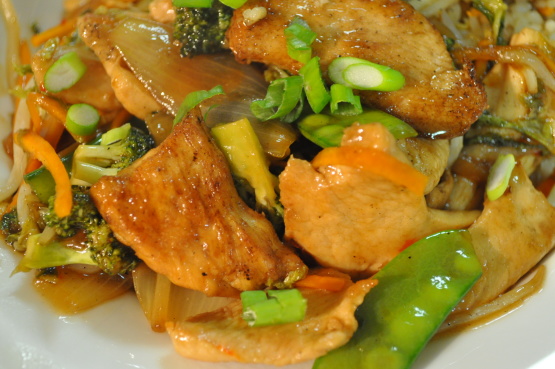 This is a yummy stir fry of chicken with plum and chili sauces, if you want to make this even quicker you could just buy a big bag of mixed asain stir fry veg to add, I had vegetables I needed to use up, I think that is the beauty of a stir fry they are so versatile and you can add any veg you like. I served this as is, it is enough for 3 generous portions or 4 smaller ones, if you want to make it a definite hearty meal for 4 just add about 300-400g noodles, my hubby and I are watching our carb intake at the moment so I do not serve a lot of meals with rice or noodles.
Was looking for a good stir fry recipe that used chicken. This recipe is a winner, the flavor is good and the ability to change up and use the veggies you have on hand is a real plus. Don't leave out the plum sauce as it gives the dish that extra spark.
700

g chicken breasts, sliced thinly

1

onion, sliced thinly

3

garlic cloves, crushed

2

teaspoons fresh ginger, grated

2

red chilies, chopped finely (add as many or few seeds as you want.)

1

tablespoon soy sauce

200

g green cabbage, shredded (I used and asian cabbage.)

2

small carrots, cut into matchsticks

5

broccoli florets, chopped

50

g snow peas, trimmed

120

g bean sprouts

8

dried whole shiitake mushrooms, soaked, sliced thinly

3

tablespoons sweet chili sauce

3

tablespoons plum sauce

2

green onions, sliced thinly
Heat some oil in a wok stir fry chicken in batches until browned all over, adding oil as needed, set to one side, wipe wok clean.
Add about 1 tablespoon more of oil add onion, garlic, ginger and chili to wok stir fry until onion softens, add soy sauce, stir fry 1 minute.
Add broccoli and return chicken to pan, stir fry 2 minutes, add both sauces, cabbage, carrots and mushrooms, stir fry a few minutes more.
Finally add snow peas and sprouts, stir fry until vegetables are tender and chicken is cooked through.
To Serve: Place in bowls or on plates and garnish with green onions.