luamia28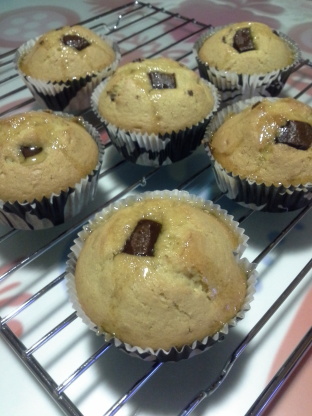 Unexpected flavor combination

I agree with previous reviewer; these are more of a muffin than cupcake. Very tasty but I must add that I had to do a last minute substitution as I discovered I had no fresh ginger (usually have some in refrigerator) so I had to substitute with 1 tsp ground ginger. The taste was still very good, with a subtle hint of ginger. The ginger taste was more predominant in the batter (of course I tasted it!) than the finished product using the dried ginger. I also added about 1/4 tsp of dried orange zest. I got 18 muffins from this batch. I also added more sugar to the glaze to make it thicker and it still never really "hardened." Makes for a little bit of a messy muffin...but yes, I will definitely make this again. I was thinking of topping with some chopped, candied ginger too. Maybe next time!
Preheat oven to 325°; insert liners into cupcake pans .
In a bowl, sift flour, baking powder, salt, and baking soda.
Add butter and sugar to the bowl of a stand mixer with the paddle attachment, beat at medium speed until mixture is light and airy.
Reduce speed to low, add eggs in one at a time, mixing well.
Add in half the orange juice and the ginger to the batter.
Gradually add half the amount of dry ingredients, mixing until just incorporated; add in remaining orange juice and remaining half of dry ingredients, mixing until batter is smooth (don't overmix).
Fill the cupcake liners 2/3 full; bake for 20-25 minutes, or until cupcakes are springy to the touch and a pick comes out clean.
Remove from oven and cool on wire rack for 10 minutes.
Make the glaze: Add orange juice, lemon juice, and powdered sugar into a small saucepan on low heat, mixing for about 2 minutes until liquids slightly evaporate.
Remove from heat and glaze cupcakes with a tablespoon each.
Wait about 5 minutes for glaze to cool and harden before topping with peeled tangerine wedge.