Ginger Orange Chicken - Hcg P2
teresas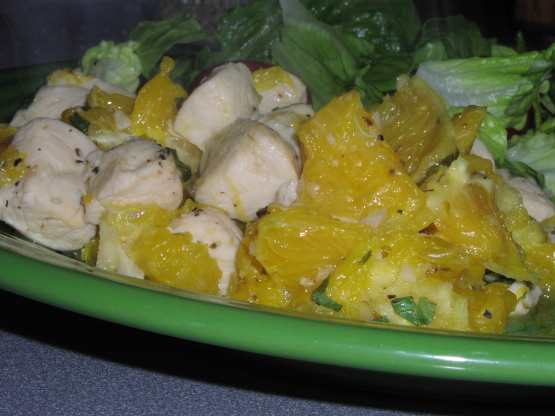 A fairly easy, tasty way to eat your fruit and protein in one meal while on the HCG diet, phase 2. Keep in mind that the orange counts towards 1 of your daily fruits.

My chicken got a little dried out, though the flavor was ok (but needed salt). I used ground ginger instead of minced and only used 1 teaspoon then. After simmering 20 minutes, I removed the chicken and added a little roux to thicken the sauce and put it over the chicken and also over rice. During dinner we added some soy sauce, which really gave a nice contrast, so if I make this again, I'll add some soy sauce during the cooking process.
Preheat pan over MED heat.
Sprinkle chicken with pepper.
Add chicken to pan and stir fry until brown on all sides, about 5-10 minutes.
Add garlic and cook for 1 minute.
Squeeze juice of orange quarters over chicken. Peel & separate juiced orange into sections.
Add juiced orange sections, ginger, lemon juice, and basil.
Stir well.
Cover and simmer for about 20-30 minutes.