IngridH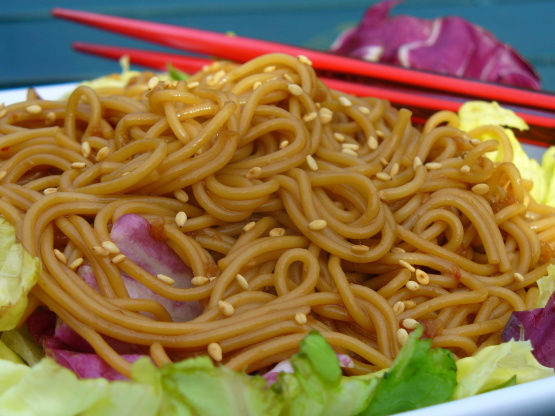 I really enjoyed this recipe! I wanted to eat it chilled, but I was too hungry to wait, so I ended eating it at room temp. I loved how fast this went together- making it perfect for a weeknight dinner. I'd love to have this again with a couple of grilled shrimp; it would make a beautiful combination. I did make a couple of changes to the recipe; first, I used sugar instead of artificial sweetener, second, I used regular soy instead of low sodium. That was a mistake, as it made the dish too salty.I also added some toasted sesame seed on top to give it some crunch, and make it prettier for serving. I'll definitely make this again, in fact, I'll likely bring it to the next potluck I go to. Thanks for posting!
Cook pasta according to directions.
In a medium saucepan add ginger, Splenda, ketchup, soy sauce, chilie paste and water.
Simmer on medium-low for 1 minute.
Remove from heat; add lime juice and sesame (or canola) oil, mix well.
Add noodles and stir well.
Place greens on a plate and noodles on top.
*Serve immediately for a warm salad; chill noodles for 15-20 minutes for a cold salad*.