JustJanS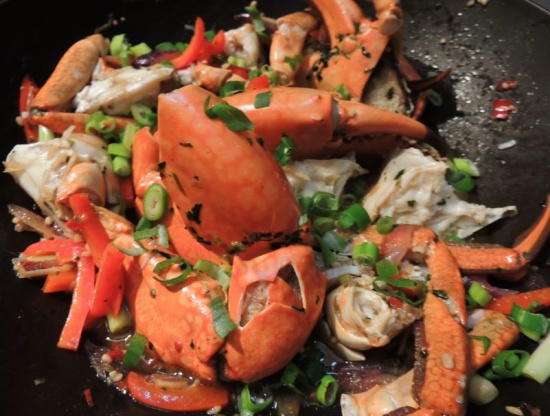 This is from the ABC TV show The Cook and the Chef but when the DH and I went to make it we could not get mud crabs (not even blue swimmers) for the first time in weeks, so saving here for when we get the opportunity to get the mud crabs. Finely got the chance to make this last night and have made some adjustments (found some errors in the original recipe) - I have left the quantities the same but for us I only used half as much, onion, spring onion and capsicum and I changed the timing to reflect what I believe it would take the average person to make.

We bought ourselves a crab-he was 1.5kg so I increased the sauce accordingly. The crab cooked up really well using this method, but we found the sauce a bit "underwhelming". Ok but not great. I had to use balsamic (which is the usual sub for black vinegar) and think the sauce could have done with more we thought. I reckon a teaspoon or two of freshly ground black pepper would kick it up a notch too. I used two chillies and had to use tube coriander for the fresh due to shopping limitation!
Freeze mud crab for 30 minutes and then blanch in boiling hot water and then submerge into ice water to refresh.
Clean and chop the crab in quarters, remove lungs and crack the claws by hitting them across the middle with a knife.
Add some off cuts of ginger and spring onion to the water in a pot on which you can sit a bamboo steamer, add the crabs to the steamer and steam for about 6 to 8 minutes or alternatively I would use my electric steamer or if you have a pot with holes in the base site that on a another pot with water.
Heat the peanut oil in the wok until smoking.
Add onion and cook till almost transluscent and then add garlic and cook for a few minutes.
Add the julienned ginger and chillies if using, 1 inch lengths of spring onion white part and the capsicum and sugar and fry a few minutes until fragrant.
Add crabs and toss, then add shoaxing wine, oyster sauce, sesame oil and stock and vinegar and cook for a few minutes (I just had this all mixed in a jug to pour in).
Sprinkle with sliced spring onion greens and coriander leaves on serving (as we don't care for coriander I omitted).
Serve with steamed rice.