Ginger Molasses Marinade for Chicken or Pork (Or Even Tofu)
Boomette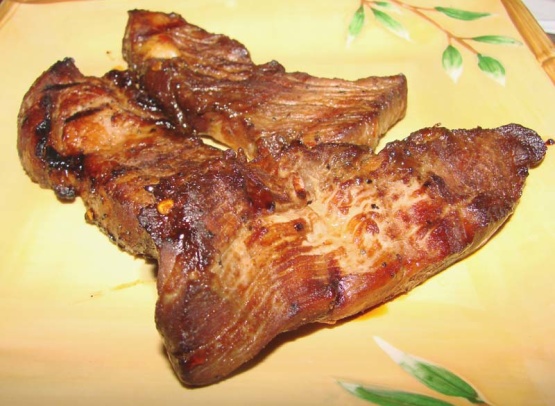 In my never ending quest to bring new flavors to the table I came upon this recipe in a decade old copy of Cooking Light. I have tried it with chicken but think it might work just as well with pork or even tofu. I've played with the balance of ingredients to suit my own tastes. The ginger gives a bit of heat to balance the sweetness of the molasses, but if you want more a dash of red pepper flakes would work.

Excellent! Perfect for OMAC. To give it a bit of a kick, I did add about 1/4 tsp Samal Oelek. I didn't have any low sodium soy sauce, so I cut it down by adding a bit water to the 1/2 cup and this worked out very well. My family raved about these! I would make them again.
Mix all of the marinade ingredients together. Combine with selected meat and marinade for 2 to 24 hours. This is enough marinade for 1 to 1 1/2 pounds of meat.
Remove meat from marinade, draining excess liquid.
Cook as desired. Grilling (indoor or outdoor) or broiling suggested.