Ginger Me up Chicken! Low Fat Honey & Ginger Chicken Breasts
Derf2440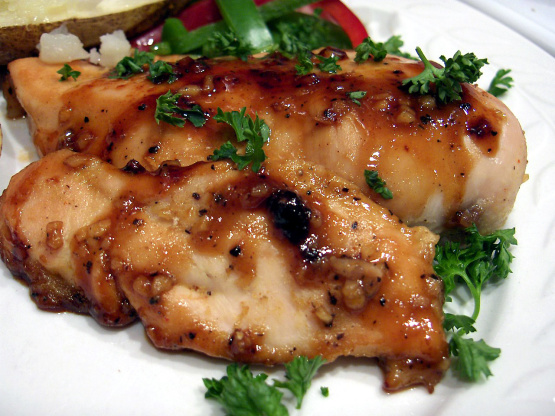 This is a recipe I have been making for yonks now.....I first devised it about 18 years ago, when I was following Rosemary Connely's "Hip & Thigh Diet"!! It's a very easy low fat chicken dish, which can be pan fried or baked in the oven - I prefer the latter method, it's much easier! Serve it with a medley of gently steamed vegetables, rice or pasta. (NB: PLEASE note, one of the reviewers has stated that she cooked this in a crockpot!! I would NEVER suggest cooking this recipe in a crockpot, that's why it is NOT mentioned as a cooking method ANYWHERE in the recipe - only pan-fried or oven baked. Thanks! )

This was an excellent dish! Easy, easy, easy! I used 2 medium sized chicken breasts and put them in a Pyrex baking dish for 30 minutes. I doubled everything except for the ginger. Thank you for a great, easy and delicious recipe! UPDATE: Made these yet again, and it's now a meal that we eat often. Healthy, light and delicious! I did not brown the chicken, just put it in the oven for 30 minutes, which is perfect. I did sprinkle some panko crumbs on the chicken before putting in the oven, just to give it a little crunch. I recommend putting the water at the bottom of the dish instead of mixing with the ingredients.
Preheat the oven to 180C or 350°F.
Select a sturdy oven dish - preferably non-stick.
Place the chicken breasts into the baking dish.
Mix the honey, mustard, water, ginger & crushed garlic (and cayenne pepper if using) together in a measuring jug.
Pour over the chicken breasts, easing them up slightly so the mixture runs underneath them.
Season with salt and freshly ground black pepper to taste and bake in the oven for 45 to 60 minutes.
Serve one chicken breast per person with some of the cooking sauce drizzled over the top of the chicken.
Garnish with chopped parsley & serve with a medley of steamed vegetables & pasta.
To pan fry, heat up a frying pan and add the chicken breasts - dry fry them briefly to give them a bit of colour and add the cooking sauce, mix well and cook for about 20- 30 minutes over a medium heat.
Serve as before.