chia2160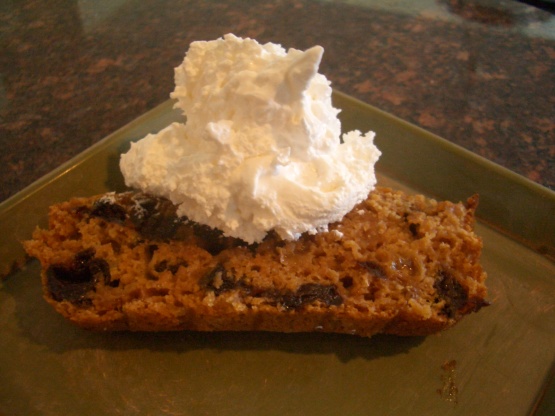 Had this recipe for ages and never used it, until now! Served it today at our church coffee morning and it went down a storm, everyone asked me for the recipe...thought I'd share it. It's also fat free!

i made this using 1/2 c dried cherries and 1/2 c golden raisins which i soaked overnight in an herbal robois tea i had made at the tea shop. i thought i followed to a t, but realized after it was in the oven that i used a loaf pan instead of a low baking dish. no problem, i baked this at 350f for 50 minutes and it came out wonderfully. i did spray the pan liberally with cooking spray before pouring the batter. this is delicious and reminds me of a moist gingerbread, but better. definitely a keeper!
Soak the mixed fruit in the tea overnight until the fruit swells.
Pre-heat the oven to 180C, Gas Mark 4.
In a bowl, combine the flour, sugar.
In another bowl mix the egg and marmalade, then add the fruit mix, ground ginger and treacle.
Mix wet and dry ingredients together.
Mix well and place in a lined or non-stick 8x11-inch tin and bake in the oven for approx 40 minutes.
Leave to cool before slicing.