Ginger Marinated Tuna With Wasabi Butter
PaulaG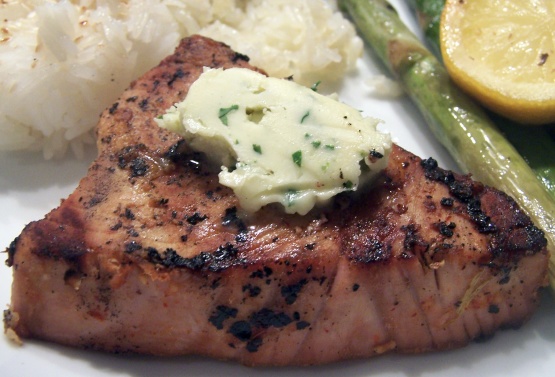 If you are expecting the sinus-clearing heat of the wasabi you will be disappointed. The orange mellows out the flavor and leaves a sweet heat. This recipe is from Cuisine at Home.

This is a fantastic recipe. I marinated both salmon and tuna and the marinade and wasabi butter worked perfectly on both. My DH overcooked the tuna a bit, and the wasabi butter was the saving grace! Definitely keeping this on my list of summer recipes!
For the butter, mix all ingredients together in a small bowl; cover and refrigerate until ready to serve.
For the marinade, place all ingredients in blender jar and blend until ingredients are coarsely chopped and blended.
Wash the tuna steaks under water, pat dry and place in shallow container.
Pour prepared marinade over tuna and allow to marinate for 30 minutes.
Preheat grill to medium-high.
Remove the tuna from marinade, spray lightly with non-stick cooking spray to prevent from sticking to grill.
Place the steaks on preheated grill and grill until your desired degree of doneness, turning once.
Top each cooked steak with 1/2 to 1 teaspoon wasabi butter and serve with additional butter on the side.
Please note that the cook time reflects the 30 minute marinade time.