Ginger Lime Teriyaki Glazed Chicken
teresas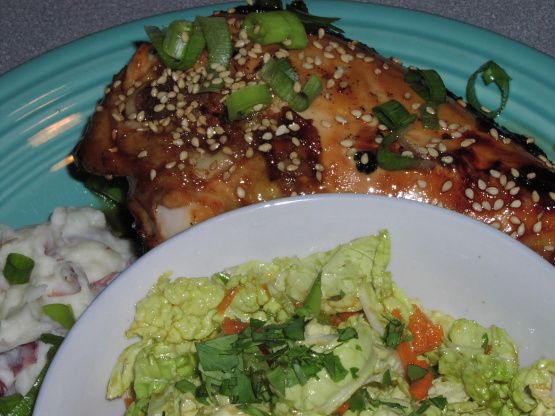 Easy to make, easy cleanup. This is from the Reynolds Cooking with Foil cookbook. It says to use Reynolds Wrap Release non-stick foil, but if not spray foil with non-stick spray before grilling.

This is yummy! I did cut the recipe down to 2 pieces of chicken. This has a nice sweet Asian flavor to it. This is a restaurant worthy dish. Very easy to prepare and the directions were spot on. I served it with recipe #359641 and recipe #177196. Made a wonderful dinner. Thanks for posting. :)
Combine: soy sauce, lime peel, lime juice, garlic, scallion whites, ginger and honey in a heavy saucepan, stir until honey is dissolved.
Spoon half of this marinade of chicken in a baking dish.
Cover and refrigerate at least one hour, turning twice.
Poke drainage holes heavy duty foil and set aside.
Add sugar to remaining marinade to create glaze.
Heat to boiling on medium high
Reduce heat and cook an additional 10 minutes, stirring occasionally until glaze is thick and syrupy.
Let glaze cool and reserve 1/2 cup for serving.
Preheat grill to medium high
Place foil with holes on grill.
Drain chicken and discard marinade.
Brush sesame oil on both sides of chicken and place skin side down on foil.
Cook chicken 5 minutes on both sides, brushing both sides with glaze.
Continue grilling and basting 6 to 8 minutes until skin is dark golden brown, juices run clear or a meat thermometer reads 170*F for breasts and 180*F for other pieces.
Discard leftover basting glaze.
Remove chicken from foil, drizzle remaining glaze over chicken and sprinkle with sesame seeds and scallion greens.