dicentra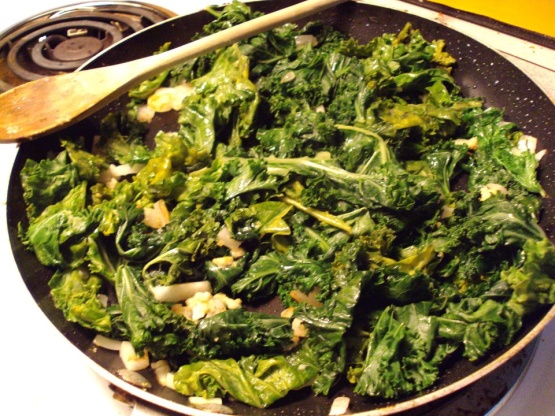 From More Recipes from a Kitchen Garden – Shepherd's Garden Seeds

I first made this recipe back in the 90's and I made it again last week for Thanksgiving after finding the recipe here online (I lost the cookbook). It is still a big hit, and I never tire of hearing "please pass the kale," "mmm, that's really good kale," "can I have some more kale, please?" at the kitchen table. Definitely an easy preparation and an enjoyable intro to kale if you're a first-timer.
Bring a large pot of lightly salted water to a boil.
Add kale and boil for 2-3 minutes, until slightly wilted. Drain in a colander.
In a large skillet or wok, heat oil and butter, add garlic, onion and ginger, and sauté until onion is softened.
Add kale, tossing until combined.
Cover and cook on low heat just until kale is tender.
Sprinkle with lime juice and toss. Grind fresh pepper over kale and serve.