Peter J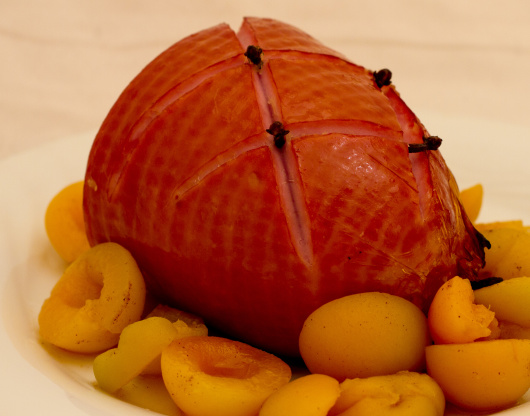 This is from the 2003 Chrisco calenser. It looks good, so I'm putting here to keep it safe til next Christmas!

Yum! I decided to have an experiment with this using a tiny 600g ham because apart from Christmas the larger ones are way more than the two of us would get through.It came out great cooked all as directed apart from I used around a third of everything and forgot to buy cherries so ommitted those. Apart from the glaze I loved the spice blend with the apricots that complemented the ham well. I saved some of the sryup leftover from the apricots and lightly spooned over the ham which is a worthwhile step to make sure the wonderful flavours don't go to waste.
Score ham, insert cloves in squares and bake at 170C for 45 minutes basting with the glaze until crisp and golden brown.
GLAZE:.
Drain syrup from apricots, measure out 125ml and reserve remainder.
Place apricot syrup, sugar, ginger and jam in a small pan and melt over a low heat, stirring.
Make reserved apricot syrup up to 250ml, with water if necessary.
Heat syrup, spices and vinegar in a large shallow saucepan.
Add apricots, hollows down and gently simmer for 5 minutes.
Remove from heat and cool apricots in syrup.
Place a cherry in each half and arrange around ham.