Patti C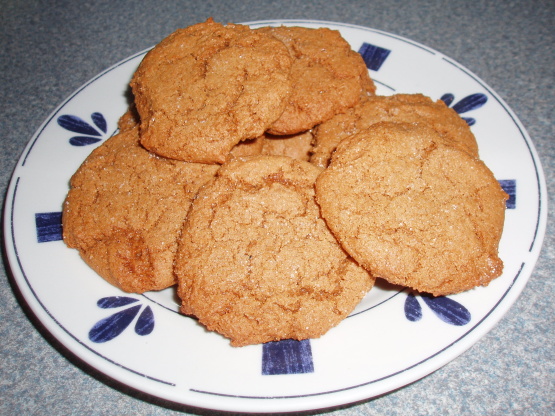 Moist gingersnaps that are very flavorful. Made with applesauce, a different ingredient than traditional gingersnaps recipes.

Top Review by qotw13
I have never made gingersnaps before, as I am not a fan of molasses, but decided to make these to take to my coworkers. The only changes I made were to reduce the sugar by 1/4 C and use cinn/cloves/nutmeg instead of allspice, and I decreased the oven temp to between 325 and 350 after the first batch came out way too done on bottom. Oh and the dough seemed way too dry so I ended up adding a few tablespoons of milk. I felt the flavor was lacking in these, and was not impressed with the texture either. They all ended up much harder than I like my cookies (except a very small part of the center), but I suppose that is how gingersnaps are supposed to be anyhow. Not sure if I will try these again or not.
Preheat oven to 375°F Spray cookie sheet with nonstick cooking spray. In medium bowl, sift together flour, ginger, baking soda, allspice and salt.
In large bowl, beat sugar and margarine with electric mixer at medium speed until blended. Whisk in apple sauce and molasses.
Add flour mixture to apple sauce mixture; stir until well blended.
Drop rounded tablespoonfuls of dough 1 inch apart onto prepared cookie sheet. Flatten each slightly with moistened fingertips.
Bake 12 to 15 minutes or until firm. Cool completely on wire.