MarySC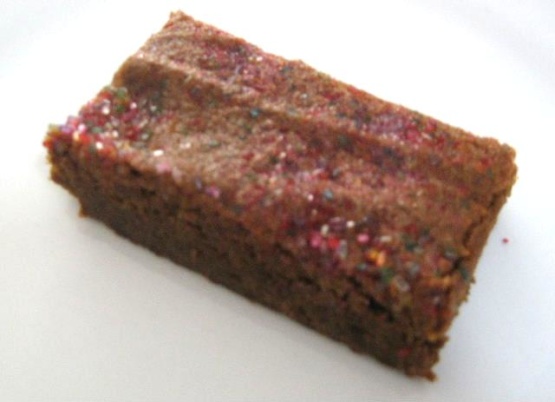 I couldn't find a recipe for a true ginger bar, so worked out one of my own. This is moist and flavorful with a nice ginger "hot zing". Omit or decrease the crystallized ginger if you prefer a mild ginger flavor! I made my own crystallized ginger with Crystallized Ginger , Ginger Syrup & Ginger Sugar, it's easy and inexpensive.

i've made this twice now (a vegan version) and they are quite tasty - good texture, great flavor. really easy to make - great for a quick holiday potluck snack. my one beef with the recipe is that the batter is really dry and crumbly after all flour is added. i added half a cup of soymilk both times i made these, and they came out perfectly - would suggest this to anyone else who might find their batter dry when making these. also, i suggest adding far more crystallized ginger - i added about 1/2 cup coarsely chopped crystallized ginger.
Cream butter, sugar, molasses, and egg in large bowl.
Add all spices and beat until well mixed.
Add flour and crystallized ginger; beat until flour is incorporated.
Spread into greased 9X13 pan and sprinkle coarse sugar on top.
Bake 350 degrees 25-30 minutes until medium brown and risen in the middle. Cool and cut.
Notes: You can put the crystallized ginger on top along with the coarse sugar; this is helpful if you want to make part of the pan milder for the kids! Looks great with colored coarse sugar.