WiGal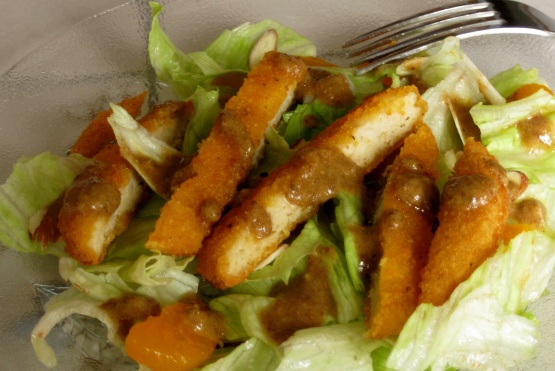 The Mustard Seed's Ginger Dressing Great for Salad or half and half with Ranch dressing. Great to cook with chicken I served this with asparagus and it went great together.

Wonderful salad dressing recipe; I'm interested to try it with chicken also. I reduced the recipe by half, and the spicy tangy dressing is a wonderful foil for a simple salad. I grated the onion on a small micro-plane, to make it very fine. I also used my hand blender (boat motor) to mix all, instead of a blender, which worked just fine. Reminiscent of a dressing I used to enjoy at a restaurant that has been long closed, this brings back happy memories! Thanks for sharing, Mardimus.
*Roast the seeds in a dry frying pan over med heat until just turning color - stir constantly - and until they start to smell yummy).
Using a blender or food processor, combine all ingredients except the soy sauce and vinegar. Blend for 1 minute or until creamy and completely blended. Then add the soy sauce and vinegar and blend for 30 more seconds. I typically whisk for 30 seconds
Store in the refrigerator for up to a month.
To cook chicken in it:.
Cut up your white chicken meat in strips.
Fry in HOT oil until almost done.
Add dressing (1/4 -1/2 cup depending on how much you're making).
Cook until done (don't over cook or it will seperate the dressing). Add more dressing if desired.