Katzen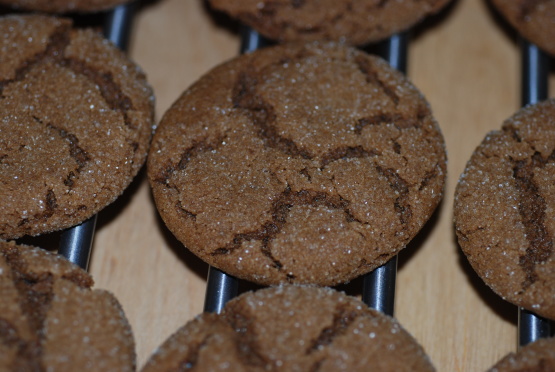 Recipe comes from the Fiddlehead restaurant in Juneau, Alaska. A recipe that allows you to bake it to your liking; soft in the center or crispy!

Great cookies! Mine baked to perfection in 12 min. Just the way we like them. I will be making these many, many times. I did make the dough refrigerated and baked the next day, no problems just let it come to room temp.
Preheat oven to 350 degrees and arrange racks so they are evenly spaced.
In a large mixing bowl, cream together butter and 1 3/4 cups sugar.
Beat in egg and molasses.
Stir together flour, baking soda, spices and salt.
Carefully stir flour mixture into butter mixture.
Form dough into walnut-size balls, dip in 1/3 cup sugar, and place on an ungreased cookie sheet, sugar side up.
Bake for 10 to 13 minutes. If you like your cookies soft in the center, remove from oven when cookie is puffed, very light golden brown. If you prefer crispy ginger cookies, bake 2 to 3 minutes more, until puffed cookie has fallen and is a golden brown.
Remove from oven and allow cookies to rest for 2 minutes before removing from cookie sheet.
Cool on racks and store tightly wrapped at room temperature for several days.