rickoholic83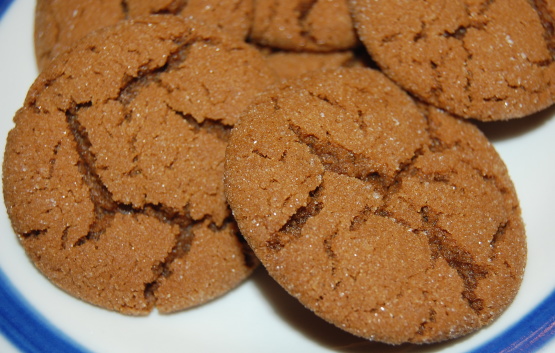 This recipe was given to me by an elementary school teacher I work with. She does a mini cooking lesson with her students every Friday and they recently made these. So soft and chewy. These are the best!

Top Review by awalde
Too good! It's really difficult to stop eat them!
Also the dough was delicious, he, he!
To the recipe I added 1 tablespoon fresh grated ginger and I replaced the mollasses half with caramel and halg with apple jelly.
I'm really glad I prepared the double amount.
Thanks a lot for this winner!
Preheat oven to 325 degrees.
Combine flour, spices, baking soda, salt and sift (if desired.) Set aside.
Cream butter and add sugar gradually. Beat until light and fluffy.
Beat in egg and molasses.
Add flour mixture (1/3 amount at a time) and mix well.
Roll into walnut-size balls. Roll in sugar and place on baking sheet, 2 inches apart.
Bake for 9-12 minutes or until tops are slightly rounded and crackly.