Marlene.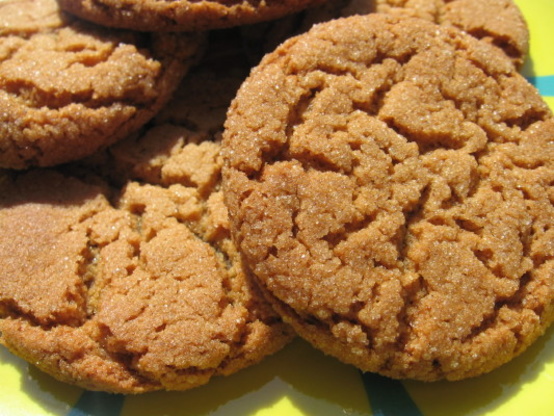 Wrote this recipe down while watching Food Network while recovering from surgery. It was featured in the "Food Network Caters Your Hawaiian Wedding". This was one of Paula Deen's contributions. I love ginger cookies and can't wait until I can get in the kitchen and whip up a batch. They looked SOO good!

I have a passion for ginger and all things gingery so I made these for Christmas. My roommate's daughter pronounced them 'the best ginger cookies ever' and, since there are now only crumbs in the box, it's safe to say they were a hit for everyone.
Preheat the oven to 350 degrees F.
Line cookie sheets with parchment paper or nonstick baking mats.
Using an electric mixer at low speed, cream the shortening and sugar until thoroughly combined.
Add the egg and molasses and beat until completely incorporated.
Sift together the flour, baking soda, cinnamon, ginger, cloves and salt and add to the mixture.
Stir until combined.
Roll the dough into balls about 1-inch in diameter.
Roll the balls in sugar.
Place 1/2-inch apart on the prepared cookie sheets.
Flatten the balls slightly with your fingertips.
Bake for 12 minutes.
Cool on wire racks.