Ginger Cole Slaw With Mandarin Oranges
PaulaG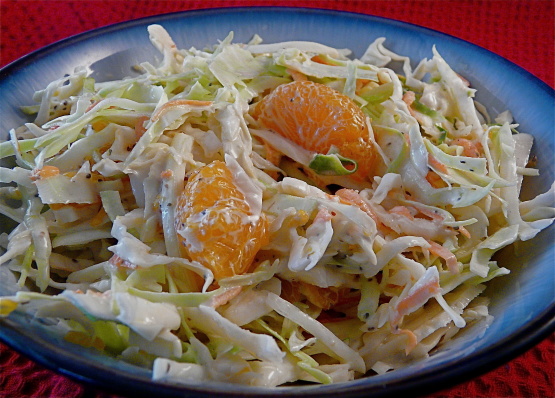 A wonderfully flavored cole slaw that goes well with pork, seafood, chicken and beef entrees. Light and creamy with just the right combination of flavors to bind. Note - refrigeration time is not included.

I was torn between giving four stars or five ... it really is a lovely little recipe, and I appreciated the fact it's different from all the common coleslaws. But in the end I'm giving it four stars because it just didn't seem very flavorful to me -- the flavors are so light and mild that it borders on being bland. I'll definitely make it again, but will tinker with it to give it just a bit more punch -- a bit more Dijon, a bit more ginger ... something. (It could just be that my ginger was a bit old and had lost some flavor!) I may also try just a bit of crystallized ginger ... who knows! But I will make it again -- thanks for posting it!
Mix cabbage and carrots in a large bowl.
In a small bowl combine mayonnaise, sour cream, mustard, ginger, celery seed, salt and pepper.
Pour over cabbage and carrots and mix well. Lightly fold in mandarin oranges.
Cover and chill at least 4 hours for flavors to blend.