Linky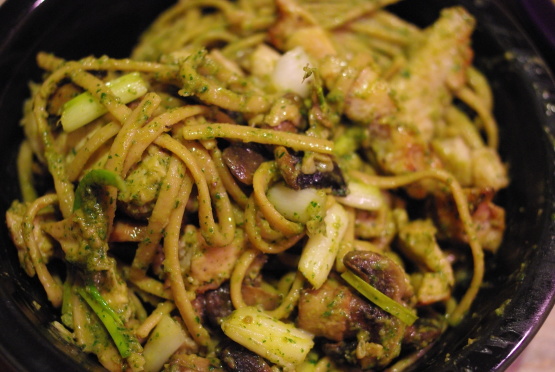 Make this a meal by adding cooked chicken, fish, or shrimp -- Modified from dallasnews.com's recipe by Jane Jarrell, published: June 21, 2011. Dust off your food processor!

Top Review by Linky
This was a super tasty side dish! Because it was winter and oh so chilly, I added sauteed mushrooms, chicken slices and green onions and heated everything up together. It was great. I will try this in summer alongside chicken on the grill and grilled veggies. Thanks, KUW!
ps I used whole wheat pasta
Cook noodles in large pot of boiling salted water, per directions on the box, until just tender but still firm.
Drain noodles. Rinse with cold water; drain well. Transfer to large bowl. Toss with 1 tablespoon sesame oil.
With food processor running, drop ginger and jalapeno through feed tube and mince.
Add cilantro, soy sauce, vinegar, peanut butter, 3 tablespoons broth and remaining 2 tablespoons sesame oil.
Process until mixture is almost smooth, adding more broth if necessary.
Season to taste with salt and pepper. Add sauce to noodles and toss.
Garnish with additional cilantro, if desired.
Serves 4.