Ginger Chocolate Chip Crinkles
CoffeeB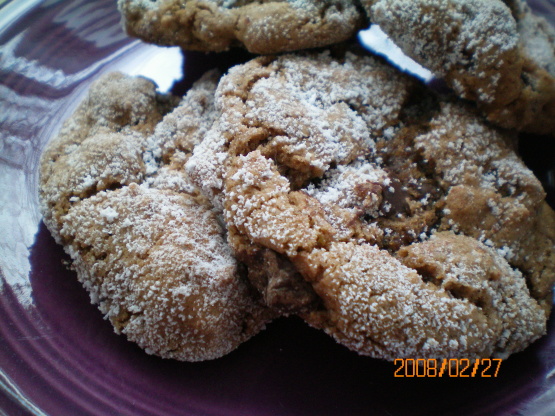 From the monthly magazine that I get from Texas Co-op Power - 2006 holiday recipe contest runner-up; Emily Huffman of Austin - to give credit where it's due. Easy, quick cookie with 2 of my favorite flavors. I think some grated orange zest would really gild the lily for me.

What a great little crinkle Susie. So glad I tagged and tried these. I must say I was leery of the ginger as not a fan. But, it comes thru very nicely and not powerful. Followed your recipe exactly as printed and rolled in Splenda. Tagged for 123 HitWonders 08~
Preheat oven to 350ºF.
In a large bowl, combine butter, vanilla, brown sugar, molasses & egg till smooth.
Add baking mix, cocoa, ginger & nutmeg. Mix well.
Stir in chocolate chips.
Form into 1-inch balls & roll in granulated sugar.
Place on ungreased cookie sheet 2 inches apart.
Bake 11-12 minutes.