teresas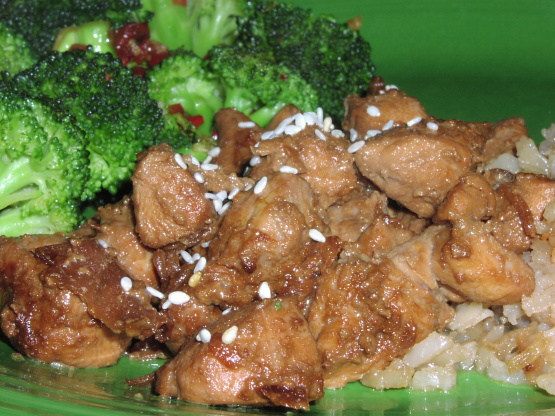 This isn't usually the ginger chicken that you get in Chinese restaurants. It is a simple and tasty recipe one of my Chinese friends likes to make. It has a good flavour and isn't too over powering. The amounts are an estimation because I have never measured it out. I usually use the liquid from the jar of the ginger not the vinegar. I usually have it with fried rice and a salad. Most of the time for this recipe is the marinating time.

Mixed reviews in my household...hubby loved it...I thought it was way too salty...I did let my chicken marinade over night so it absorbed a lot of the soy sauce...I could only take two bites...the first one was way too salty so I tried it again just in case...hubby ate his all up...I served it with some leftover rice and recipe #347408 made for Spring PAC 2013 =)
Chop the pickled ginger finely.
Put chicken, ginger, garlic powder, soy sauce, and vinegar in a bowl and mix. The chicken should be fully covered.
Let chicken marinate for at least 8 hours, overnight is even better.
Heat pan with oil.
Add chicken with marinade to pan. Cover and cook for 5 minutes.
Turn the chicken and cover for another 5 minutes.
Remove lid and cook until the chicken is fully cooked and the sauce thickens a bit.
Serve and top with toasted sesame seeds.