Chilicat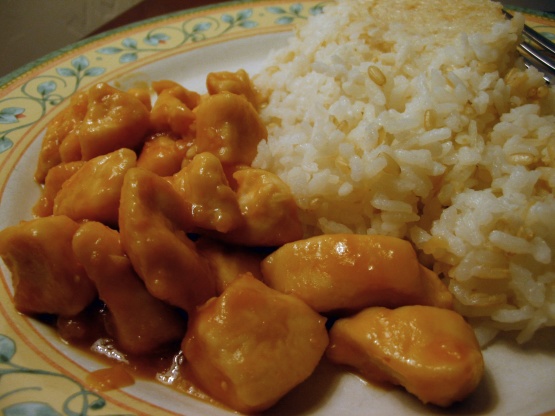 A simple chicken dish,very easy to do ,almost asian in style,
I cooked this recipe for dinner last night and my family loved the taste. This complemented the rice so well. It was very easy to make and I would recommend it to anybody.
Coat chicken pieces in the flour.
Heat oil in non-stick frying pan over medium-high heat.
Cook chicken 3-4 minutes per side, until lightly browned on the outside.
Meanwhile, mix pineapple juice, honey, soy sauce, ginger and garlic.
Pour over the chicken.
Cook, stirring constantly, until juices run clear when chicken is pierced and the sauce is slightly thickened.
If the sauce is too thick, add 1/4 cup water.
I serve this with Thai Sticky Jasmine Rice and a cucumber salad.