Ginger Carrots and Broccoli With Sesame Seeds
PaulaG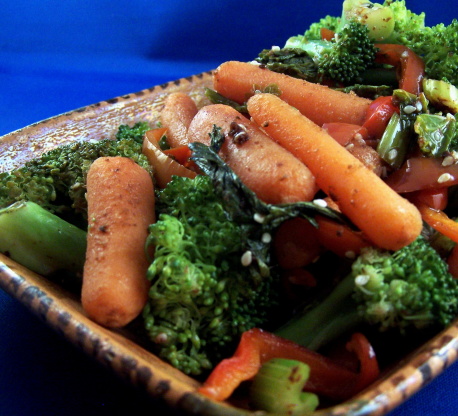 Colourful and tasty!! from Heart Healthy Cooking by Becel

Nice taste, but the cooking times produced mushy, overdone carrots. Next time I'll just barely blanche them.
In a medium saucepan of boiling water, simmer carrots, partially covered, for 5 minutes.
Add broccoli and continue cooking 3 minutes or until veggies are tender.
Drain well.
Meanwhile, in a large frypan, melt margarine over medium heat.
Saute celery, red pepper, sesame seeds and ginger, 3 minutes or until tender.
Add carrots and broccoli to frypan and stir fry until heated through.
Season with salt and pepper.