Ginger Carrot Parsnip Soup
Noodles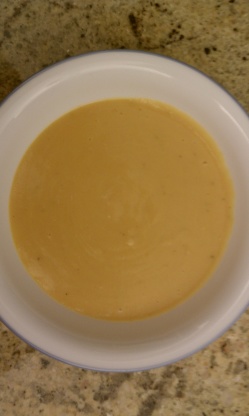 Came up with this soup the other day and it was so good I wanted to share.

OH YUMMM! I was skeptical that I would like this soup as I do not care for fresh ginger. However, I know how healthy it is, so I bought some and decided to search for appropriate recipes to try so I could "get over" my dislike of this horrid root. WOW! This was delicious! The only thing I did differently was added MORE parsnips and carrots (6 each) and garnished with a sprinkle of nutmeg. VERY tasty indeed. Thanks for sharing.
Heat oil in a large saucepan over medium-high heat. Add onion and sautee until tender (about 10 minutes).
Add garlic and ginger, sautee for another minute.
Add spices and stir to coat.
Add carrots, parsnips, and broth and bring to a boil. Reduce heat and simmer until carrots and parsnips are tender (about 30 minutes).
Puree mixture in a blender or food processor.
Return to saucepan and slowly stir in coconut milk over medium heat.
Add lemon juice, salt, and pepper to taste.