Ginger Cake with Raisin Sauce
moxie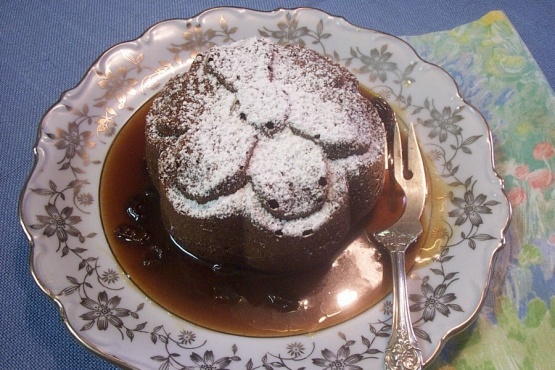 A wonderful combination of brown sugar, molasses, spices, and raisins! I am crazy over a good gingerbread with real whip cream. This sweetened goodness is a bit richer due to the sauce but ooooohhhhh so good!

Top Review by Ms B.
Yum! This is an awesome dessert. I loved the tanginess the cider added to the sauce. Paired with the gingerbread-like cake, it was incredible. I baked this in a bundt pan, and although there wasn't enough batter to make a "tall" bundt, it was still very pretty. Definately added to my rotation of impressive "comfort" desserts. Thanks for posting.
For the cake: Mix the first 5 dry ingredients together and set aside.
Beat Crisco and sugar until well blended.
Add molasses and beat well.
Add eggs one at a time beating well between each one.
Add half of flour mixture and mix well.
Add 1/3 cup of boiling water and mix well.
Add the rest of the dry and mix well.
Add rest of boiling water and mix well.
Pour cake batter in a greased 8X8 baking pan and cook for 35-40 minutes in a 350 degree oven.
For the sauce: Add the warm water and raisins in small saucepan and simmer for 5 minutes.
Remove pan from heat.
In a larger saucepan add the brown sugar, cornstarch, cinnamon and vinegar and stir well.
Add the hot raisin mixture and stir well cooking over medium heat for 2-3 minutes as mixture thickens.
Remove from heat and stir in butter.
Pour over the cut squares of cake.