Ginger Cake Iced in Lemon
PaulaG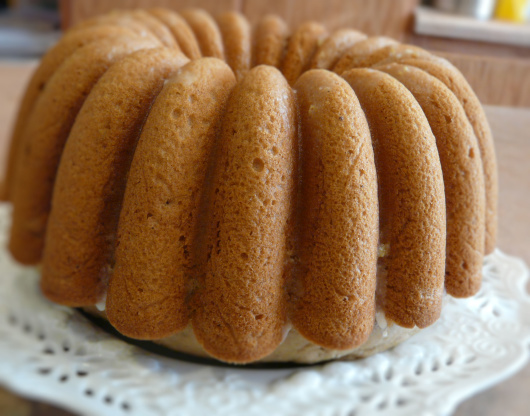 This is a very tasty ginger cake. It always brings back memories of my childhood. Walking down the lane after school, smelling this in the air, running for the front door and finally sitting at the kitchen table with a slice and a big glass of milk .

Made for 123 tag. This is a lovely spice flavoured cake and I love the lemon glaze.Simple to make and you can play around with the spice blend to suit your tastes.
Preheat oven to 350 degrees.
Grease and flour a 10 inch tube or bundt pan and set aside until needed.
In a medium bowl add flour, baking poser, baking soda, ginger, nutmeg and cinnamon. Mix to blend and set aside.
In a large bowl beat the butter and brown sugar until well mixed.
Next add the eggs one at a time, mixing well.
Alternate flour and buttermilk, beating on low until just mixed.
Pour the batter into the prepared pan and bake for 50 - 60 minutes in a 350 degree oven. Check at 50 minutes.
Cool on a rack for 10 minutes, remove from pan and cool completely.
Mix the powdered sugar, lemon rind and lemon juice together and drizzle over cake.