Bergy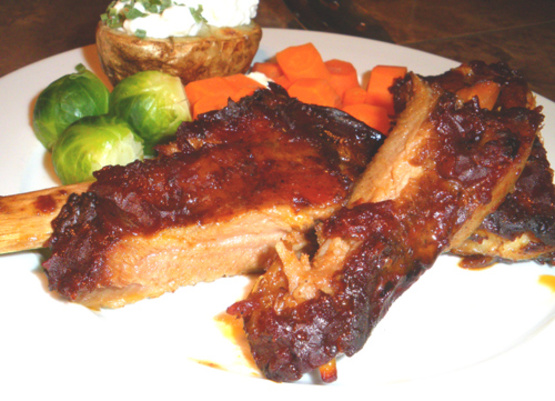 Required to marinate over night. This is a tasty blend of spices, citrus juice and molasses. Lovely aroma while they are baking. If you wish to BBQ oven cook them first and finish them on the BBQ last 15 minutes. Be careful the molasses in the sauce will burn easily
Mix all the sauce ingredients together in a saucepan and bring to a simmer - simmer 5 minutes and cool.
Save 1/4 cup separately for final basting.
Place a rack of rib on double foil large enough to fully seal the ribs.
Pour half the sauce over the rack, flip to coat well, close the foil.
Take another piece of foil large enough to double fold edges and cover the rack so there are now 3 layers of foil.
Repat for second rack.
Place sealed racks in the fridge overnight.
Heat oven to 300F place foil wrapped ribs in the oven and slow bake for 1 1/2 to 2 hours, open the foil and place the ribs 8" from top element broil to get golden, baste with saved sauce or finish them on the BBQ.
Becareful at this stage and watch them carefully or they can burn.