Ginger and Lemon Steamed Vegetables
Derf2440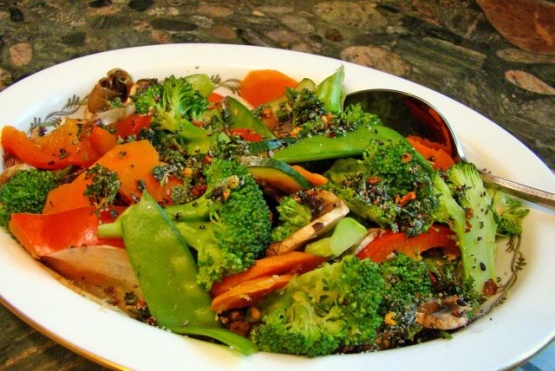 This is from Everyday with RR. I'm always looking for new ways with veggies and this looks yummy. Sounds like it will be very pretty too.

Made these for a dinner party, we all loved the ginger lemon scented veggies!! The addition of a little heat with the red pepper flakes was perfect. They were a lovely mix of veggies and the seseme seed mix was a lovely finish. I only had black seseme seeds on hand, they worked very well. Thanks for posting I will be making them again.
Lay the ginger evenly over the bottom of a steamer basket. Top with layers of the snap peas, zucchini, carrot, bell pepper and mushrooms. Sprinkle with the lemon zest.
Place the salt, sesame seeds, parsley and red pepper flakes in a resealable plastic bag and lightly smash the seasonings with the back of a knife until coarse; set aside.
Fill the steamer base with about 2 inches of cold water and add the lemon juice. Bring to a simmer, place the steamer basket on top and cover. Steam the vegetables until fork-tender; about 4 minutes.
Transfer the steamed vegetables to a serving platter, sprinkle with the seasoned salt and drizzle with olive oil.