Ginger Ale(For the Juicer)

Apples, juiced in your juicer with fresh ginger! Adapted from Living and Raw Foods.
Directions
Juice apples and ginger in your juicer. Place in 1/2 gallon jar.
Pour in mineral water or purified water to top of jar.
The mineral water makes it taste like sparkling ginger ale! Enjoy!
Reviews
Most Helpful
Outstandingly fresh and delicious drink! We added a squeeze of lemon to keep the color. It did not need sugar at all. We used sparkling water and everyone loved it. DH even had a small cocktail mixed with vodka. Cheers!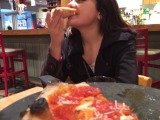 I made this with green apples and about 4 times the amount of ginger. The apple juice was so sour that I couldn't even taste the ginger, but my 12yo son said he could. 4yo said he liked it sour! 12yo decided to add a *lot* of sugar. I tried it with honey. Then it tasted like honey soda! I tried it with the sugar and it was really good that way, and I could finally taste the ginger. I will try this again with a sweeter kind of apple. Maybe galas. Though the green apples (I didn't peel them) made the drink a very pretty color. Reviewed for the December Veg*n Recipe Swap.

I did half of it and it gave me 2 glasses. I used club soda . We really loved this :) So good and fresh. Thanks Sharon. Made for Newest Zaar tag.