KellyMae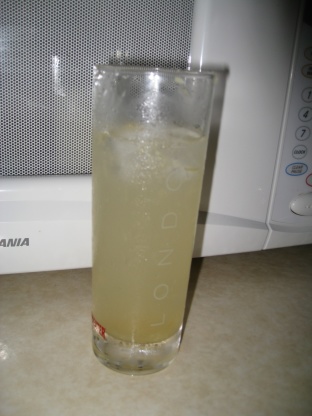 Refreshing, easy, delicious and healthy.

This is so delicious. I usually make a big batch of the "extract" to keep on hand to add to club soda at any time. Just pour two cups of boiling water over 1/4 c. grated ginger and the grated rinds of 4 lemons or limes. Dissolve honey to taste (then you don't have to worry about later dissolving honey in cold water). When this mixture cools to room temperature, strain it, then add the juice of the four limes/lemons; refrigerate. Just add a couple tablespoons of this extract to your glass of club soda. Great for summer! (You can also make a hot drink for winter, by adding the extract to boiling water.) This way, you can enjoy a lot more of this drink while only doing the work once!
1

(12 ounce) can club soda

1

teaspoon honey

1

lime, juice and zest of
1⁄2 teaspoon grated frozen ginger

5

ice cubes
Put it all in a tall glass.
Mix and enjoy!