Gilroy Marinated Garlic Mushrooms
Boomette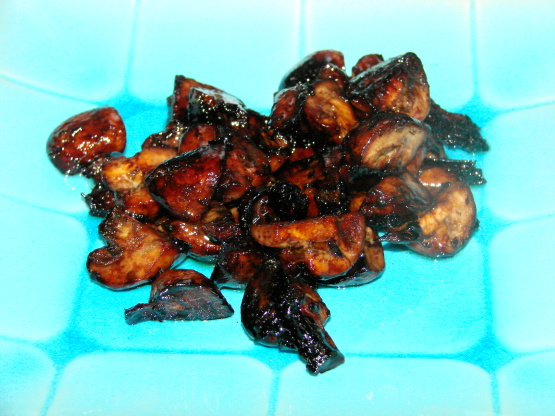 This was originally known as Morgan Hill Garlic Mushrooms, but since more people are familiar with Gilroy name from the annual Gilroy Garlic Festival in Gilroy, CA I am posting with the Gilroy name. This was from 1979 contest and oh so good. Marinated mushrooms became very popular in the late 1970's and this is a wonderful recipe highlighting both garlic and mushrooms.
I halved the recipe to use 250 g of mushrooms. Then I poured everything in a jar to marinate. But a few mushrooms were still in the pan. I decided to brown them. And they turned out so tasty. I decided to empty the jar back to the pan and brown all the mushrooms at medium-high heat. The seasonnings are perfect. I omitted the salt. I used dried parsley. Thanks Rinshinomori :) Made for the Australian swap for February 2011
Saute garlic in oil and add vinegar, wine, soy sauce, honey, parsley, and salt. Stir util mixture is hot.
Place mushrooms in container and pour hot mixture over mushrooms. Marinate for 3 hours or more, turning over several times.
You can use marinade for later use on more mushrooms or as a salad dressing.