Gigot De Sept Heures (French Seven Hour Roast Lamb)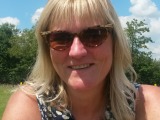 I love Anthony Bourdains attitude towards life and food so was over the moon when my husband bought me his "Les Halles Cookbook". This recipe is FANTASTIC! I never cook roast lamb in any other way since finding this. I do follow his ingredients but just cook it in a normal roasting pan with a well fitting lid, (although sometimes I only cook it for 5 or 6 hours, its still meltingly tender by then) then make a gravy from the strained cooking juices. If I'm using half a lamb a generally halve all the ingredients except the wine! Wonderful served with French creamed cabbage, glazed carrots and dauphinois potatoes.
Directions
Preheat oven to 300 F/ 150°C.
Make small incisions in the lamb and put a sliver of garlic inside each incision.
Rub the lamb well with the olive oil and season all over with the salt and pepper.
Place it in a Dutch oven and add the sliced onions, whole carrots, whole garlic cloves, bouquet garni and wine.
Put the lid on the Dutch oven.
In a medium bowl combine the flour and water to form a rough dough, mixing well with a wooden spoon. (Don't worry you don't have to eat it).
Use the dough like grout to create a seal that connects the lid to the Dutch oven.
Place in the oven and cook for 7 hours.
Remove from the oven and break the seal.
Serve.
Most Helpful
This absolutely rocks. I am making it for the second time today and adding anchovy fillets into the incisions with the garlic. Should be a winner