Glori-B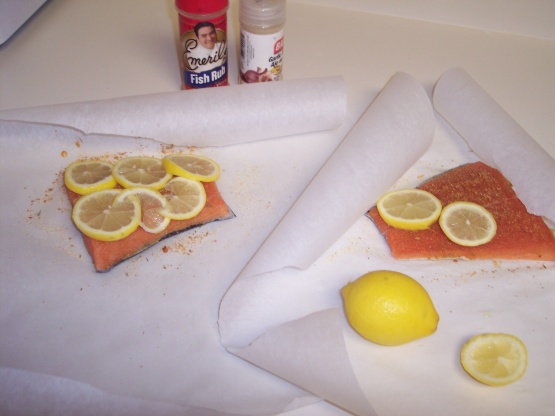 Super easy method, lucious fresh fish and lightning-fast clean-up elevate this simple dish to divine. My husband's favorite erev Shabbat meal.
4

(6 -8 ounce) salmon fillets, Fresh King Salmon from Alaska if you can get it
fish seasoning, such as Emeril's Fish Rub

1

lemon, sliced into thin rounds
Preheat oven to 425 degrees.
Rinse salmon fillets. Skin can stay on.
Tear one sheet of parchment approximately 12 inches long for each salmon fillet.
Place each fillet on its own sheet of paper, skin side down.
Sprinkle on Fish Rub and garlic powder.
Cover fillet with single layer of lemon slices.
Make packets by gathering 2 opposing sides of parchment and rolling into tight packet. Gather each remaining side of parchment, roll and tuck under.
Place on baking pan, tucked-under edges down.
Bake at 425oF for approximately 20 minutes.
When you see the juices bubbling inside the packet, and the paper is slightly brown, it's done!
Serve with your favorite veggies for an elegant meal. You can either unwrap in the kitchen or let diners do it themselves for a fun touch.