Gift Brownie Mix - in a Jar
Lorac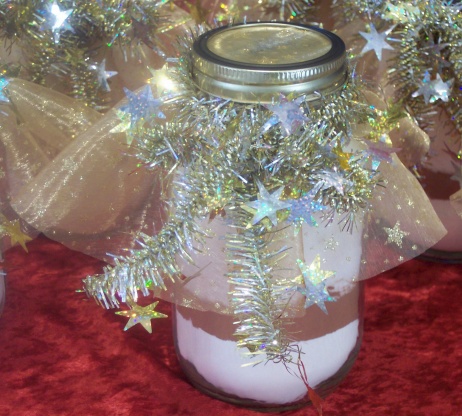 This version produces yummy brownies that are more chewy and less cake-like than other "in a jar" mixes. This year I made a dozen jars for gifts!

This looks so good! I moved to Arizona about a year ago and my husband and I have just recently made some friends and I want to make a showing at my up and coming Christmas party and I think these will be PERFECT as gifts! Thanks for the idea!!!!
Wash and dry jars and lids in the dishwasher.
Mix together flour, baking powder, and salt in a quart jar, pack firmly and brush residue off the insides of the jar with a pastry brush.
Add cocoa, pack firmly and brush sides.
Add sugar, pack and brush.
Add chocolate chips and seal.
Attach the following recipe:.
1 jar brownie mix.
1 cup butter melted.
3 eggs.
1 teaspoon vanilla.
Preheat oven to 350°F.
Prepare a 9x13 inch baking pan by greasing and flouring.
Place brownie mix in a bowl and stir to mix.
Add butter, eggs and vanilla and mix until well blended.
Spread batter evenly in prepared pan.
Bake 25-30 minutes.
Cool completely before cutting.