Bergy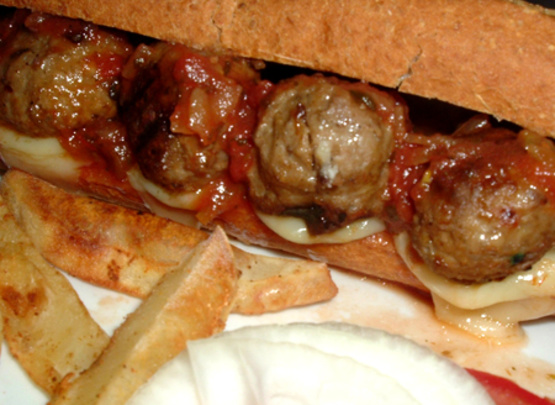 As either a hearty party sandwich or a filling lunch or dinner, this sub will rise to the top of your list of favorites. It's also a perfect contribution to a potluck...but don't expect to have any leftovers!

Top Review by Bergy
5 star all the way. I did take a couple of liberties - I cooked the meatballs on my cusainart grill, heated salsa instead of spaghetti sauce, Put the Mozarrella on the bottom half of the bun -put it into the toaster oven until it started to melt. Then added some parmesan. Put the meatballs on the bun added the hot salsa sliced and enjoyed. Thanks looneytunesfan for a super Saturday night dinner - Loved it
In a large bowl, combine the eggs, milk, onion, garlic, bread crumbs, salt and Italian seasoning. Crumble sausage and beef over mixture; mix well. Shape into 1-in. balls. Place in a greased 13-in. x 9-in. x 2-in. baking dish. Bake at 425° for 15 minutes or until browned.
In a Dutch oven, heat the spaghetti sauce over medium heat. Add meatballs; simmer for 15 minutes. Meanwhile, bake bread at 325° for 10 minutes or until heated through. Place mozzarella cheese on bottom half of bread; spoon meatballs onto cheese. Replace top. Slice sandwich into serving-size portions; serve with extra spaghetti sauce and Parmesan cheese if desired.