Giant Crisp Chocolate Chip Cookies
dojemi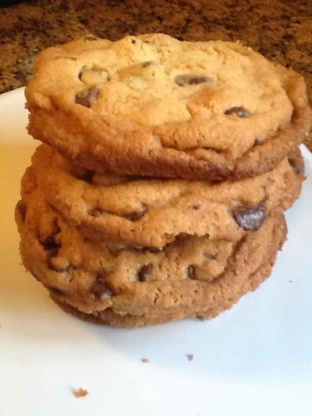 These are the most fantastic cookies. They are gigantic so be sure to only place 6 on each baking sheet.

I made this recipe to take to work so I made them a lot smaller than "giant" (approx. 1T of dough/cookie). At work, people tend to crawl out of the woodwork if baked goods come into their radar... Anyway, after reading another review, I reduced the salt to about a half a teaspoon and I thought that that was enough for my tastes. It was simple to put together and the recipe made about 4 dozen good sized cookies. Thank you for posting this recipe!
Mix together the flour, baking soda and salt and set aside.
Cream the butter till fluffy.
Gradually beat in the sugar till light.
Beat in the egg and vanilla till blended and fluffy.
Stir in the flour mixture, chocolate bits and nuts and mix well.
Shape into 2-inch balls and place 3-inches apart on ungreased cookie sheet (6 on each).
Bake on middle rack of oven at 350° for 20-23 minutes or till golden and edges are lightly browned.